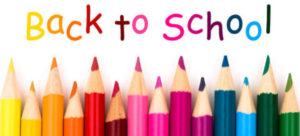 I know that some kids have been back at school for a week or two (or more!). But, here in Minnesota, the vast majority of kids go back to school the day after Labor Day. There is even a state law about it! So I have spent the last week to ten days squeezing in every last bit of summer I could – time with friends, BBQs, splashing in the lake.
There are a few times of year that have that "fresh start" feeling – New Years, springtime, perhaps your birthday, and back-to-school all come to mind. I don't know if it is the new box of crayons or clean tennis shoes or what. But, going back to school was filled with so much potential. Who was my teacher? What would I learn this year? What would I discover? The possibilities were endless!!
And even though many of us are not in school anymore, this time of year still seems to mark a passage from the carefree time of summer, to the let's get down to business fall. The limited time between the relaxed pace of summer and the sometimes hectic holiday season. Maybe you have been thinking the same thing…
There are roughly 4 months left in the year. What goals do you still hope to tackle? What changes do you still want to make? What leader do you aspire to be? Or flip it, and think about how you will feel on December 31 if you are in in the same spot you are today. Are you ready to move forward on your dreams and plans?
So after you enjoy this last weekend of summer, if you are in Minnesota or not, on Tuesday kiss your Lovies (or fur babies) and put them on the bus to get back to school. And then, get back to you.
xo,
Kelly